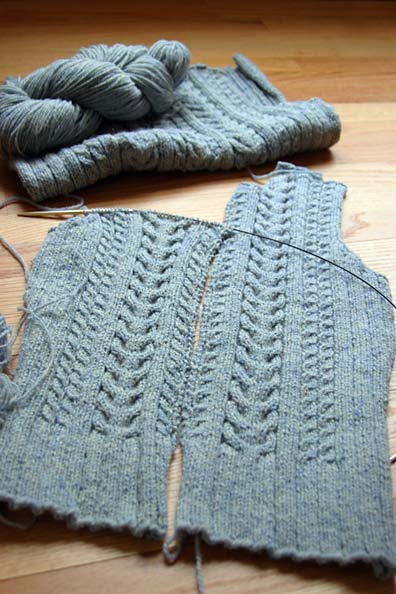 What happens when you're in love with the colors of Lake Michigan? I daydream about it knitting this sweater. (Of course, it's about 70 degrees warmer in my fantasy, it being almost zero degrees again this morning…)
This yarn has many shades of blue running throuhout the yarn lengths. Some heathers might have a contrasting or complimentary color carded in, but this one is all blue and natural.
It is also a little off. I was so excited about getting the Right Front almost finished. Then I took this picture and the Left Front is noticeably cooler in tone. Whoa. The natural base yarn is whiter and the others with a more yellow tone make the fabric skew slightly green. I didn't notice this when I got the yarn, a mail delivery, just put it on the shelf. (It had no tags on any of the skeins.)
SO. When I finish this front (24 rows and counting) I am going to pop them both into a bath and see if it all comes out in the wash. [Probably not, but the only other choice is FROG POND and re-knit!]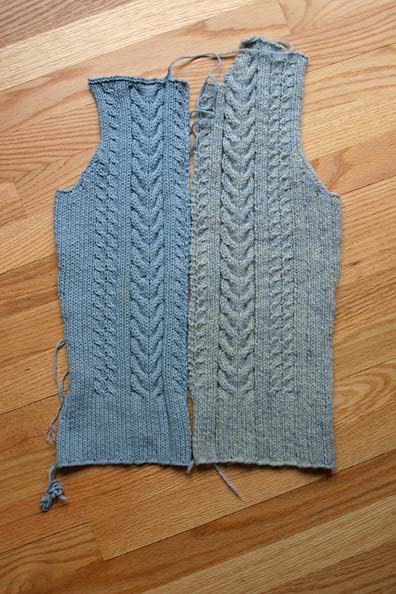 When I was swatching for Cassidy way back in the R&D days, I made a *swatch* out of cotton to see if I'd like it. It turned up the other day in an apartment sweep for something else, so just for the heck of it, here they are side-by-side, cotton to the left. The Cotton one is made in a smaller size but the gauge holds up and so do the dimensions of the cabling.
I am very tempted to start one out of cotton when I finish the wool one — having a stash of Charcoal Cotton Ease (Hey Emily, got any black laying around I could poach?) I also stumbled upon while closeting some other stuff this weekend.