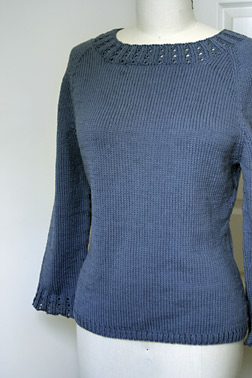 …new Threads Tuesday…
The last we saw this color in these parts was weeks ago, it was spotted in the wilds of the #66 Chicago Ave. coach. It was enjoying a ride downtown taking the same route hundreds and hundreds of visitors have been using this summer.
What a lucky thing to go past the American Girl Store! WHO is that I spy eating in the sidewalk cafe at Ralph Lauren (Johnny Depp??) IS that really a farmer's market outside the Museum of Contemporary Art? Are those peonies REAL?
My projects show a lot less restraint than I at this time of year and want to LEAP off the bus, and go enjoy the sites with all of the fine tourists out frolicking in the landscape in what is called the Miracle Mile…
But I understand the finish line is also in sight, so on I knit on and VOILA! My new pulli is done! This was made using the new Basic Chic Pulli pattern and was intended to be a piece of display wardrobe at the TNNA show in June. Instead, it took its summer time on the needles and is now making a late arrival.
I don't mind.
Deadline be damned, now it can be for MY closet! I love clothes! And this design is going to be the one that eats my stash. It is the Busmate; the knit-in-the-round darling that can be mobile and (almost) mindless Happy Hour knitting: that hour between worlds when you're trapped in traffic but soothed by the needle.
I have aqua Bali; taupe Madil Denim; more soft navy but in a matte yarn called Kool Kotton; an ecru one and a light blue one in Cotton Fleece (which is the yarn this one is made from). I lust for one out of Shelridge Farms Soft Touch.
Can you imagine the fun, at some point, of opening the armoire and seeing pullovers for the taking in all sorts of colors on an entire shelf…
It could happen…
Must. Knit. Faster.

---
To get on our notify list for updates and other availabilities, sign up HERE…