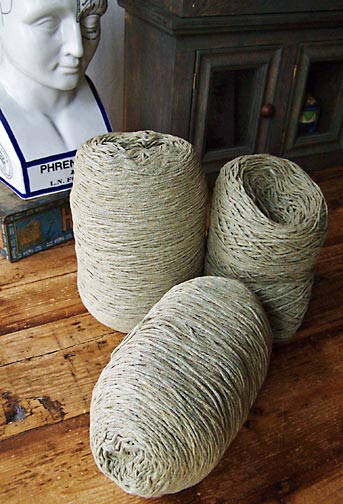 What is up with these looooong cylinders of yarn?
I giggle everytime I see these and I've been laughing for a few years now!
In the early days of eBay, I was a stalker. Nothing was more entertaining for me than to browse and *window shop* the yarn offerings on that site. Even more entertaining, or so it seemed at the time, was actually buying a bunch of Mystery Yarns. If you've ever been in my studio, you know it's liberaly peppered with HUH?!
This was a get from a forgotten vendor and I think it is a cotton-microfiber blend. How do I know? Gut feeling, intuition, women's prerogative, etc. etc. etc. nothing scientific or positive because, after all this is MYSTERY YARN!
It IS DK weight and I also have it in aqua…
I adore it and now it finally gets to go to bat.
My design project needs a patsy, an experimental sacrifice, even, and nothing is more incredibly expendable, than Mystery Yarn. It serves, it protects, it will be my wardrobe at the very end without needing to make nice in a picture!