O boyo, this is a real old-fashioned winter we've got going here.
I think it's safe to say we've been battered all around, from coast-to-coast: if you're not covered in snow, you're swimming in rain, and friends, in these parts, it's chilly (Temperature: 9° — Wind chill: 1°).
My DNA is calling. It says: "Stay inside! Hunker Down in warm cozy clothes! Eat warm bread and chocolate!"
Not too hard to do when all of the above is onboard: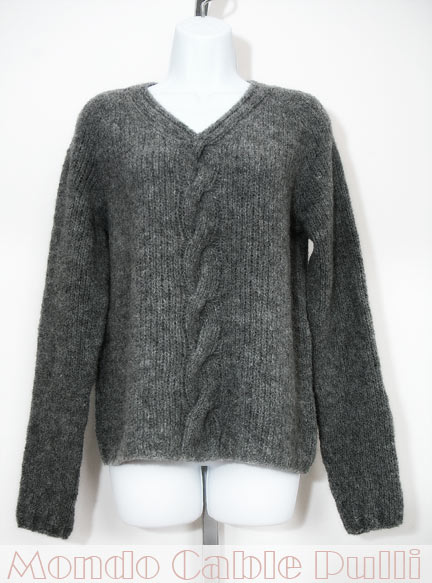 A little bit of the New FO over here and I've been living in this. I finally finished my Mondo Cable Pulli, knitted from Jeager PERSIA (discontinued) in a lovely grey flannel color.
This yarn is wool boucle that is plush and cushy and the sweater looks equally good with my black velvet stretch pants or jeans or even my black leather mini-skirt and black tights.
Underneath? I picked up several v-neck tees from old navy that were on sale after thanksgiving. They are very lightweight but with long sleeves and they add a nice insulating layer under almost anything without a lot of bulk. No peeking out from under the top layer either.
Or, if you want to get more Trekkie, a black turtleneck works too.
I just enjoyed the recent Star Trek movie, the one with the young Kirk & Spock. Might I say, this is probably the very BEST film ever on the Enterprise et all. The sequences with the child Kirk & Spock were very interesting and well done; and by the time they brought in Karl Urban as Dr. McCoy, I was ready for anything.
But, god-help-me, everytime I see a v-neck with a turtlenect shirt underneath, I trip! And, I have no problem looking like I'm on the Bridge! There is something timeless about this combination that looks good on almost anyone I've seen it on.
And BTW, this sweater even looks good over jammies…