Hi everybody — due to a very Tragic Server crash, I lost all the wonderful comments you left about my Mom & our garden. THANK YOU for being so kind and generous — I think we have the ghost out of the machine now but I apologize for the wacky site behaviour the past few days…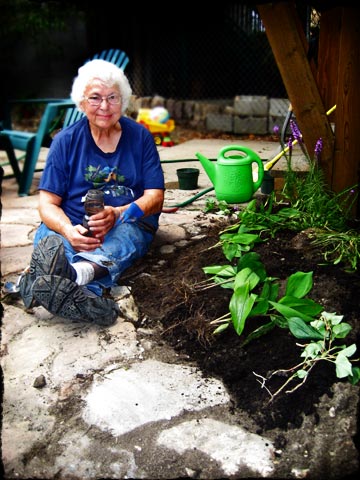 self-portrait Tuesday
What, you say? Who's that girl?
Well. This is a 50% Self-Portrait.
That is my Mom. ;p
She was visiting for a few days and we really got to it in the back yard. I thought she looked adorable (she's 75yo) in her jeans, working away on the ground (on my behalf!) Those are lilies-of-the-valley in the middle, liatris (sterile) on the right, and some unknown vine-y ivy in the front.
Two things are very special about this.
FIRST: my Mom is even here, especially doing anything. She was very ill last year at this time and it brings me great joy to see her traveling, gardening, doing all the things she loves. I have to salute her — she took hold of the situation, has lost about 40 lbs and feels great!
SECOND: those lily-of-the-valley originally came from my DziaDzia's (grandpa) garden, maybe all the way off the farm. It's a touchstone of something we all have in common across the miles and years and I know I will love seeing it in the yard.
We had fun deciding where it was going to go. LofV is *much too friendly* of a plant, multiplying and going everywhere. Liatris, even though this is the hybrid kind, is like that too, although to a lesser degree.
So what you see above is my Mom's solution. She found a corner of the yard, where we weren't really planning on planting and made them their own habitat where their beauty can tickle us without torturing us with their bad habits.
What was really fun was that she used a ton of the rocks we dug out of the yard while we were excavating the space for the pavers. Our house is built on the scene of a fire; the previous 19th century house had burned down and elements of it are spread all over our lot.
She used the smaller ones to make a border between the pavers and the beds — we hope to use up every bit of found stone — very good luck :)