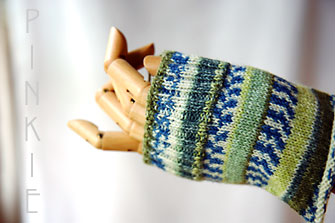 Sock Love in Schoeller Stahl SOCKA color 9047
Now that I've completed that silly Finger Quiz, I've noticed that indeed, I lift ye Pinkie, unconsciously, into the air any chance I get — drinking a cuppa, tying my shoes, and oh, blow-drying my hair.
I thought myself a common man but this one little flag salutes the snob in all of us, no? Yes! I watch Masterpiece Theatre and accredit it as High Culture! But tickling it was to see a scene in Bleak House where Guppy, a social climbing lawyer, raised his pinkie with purpose while drinking a cup of tea with his betters, as if that one act alone would make them live in a parallel society.
I adore Charles Dickens. I've been slowly working my way through his writing, which I find as fresh today as when he walked.
I suppose one had maybe, hmm, two or three pairs of socks back then, if you were fortunate — cost: 1 shilling, 10 pence ("It has been said that in 1800, not one person in fifty living in England wore socks, but by 1900 not one person in fifty was without them."). But what DID the common man wear? I wonder if there was a street market equivalent of the Six-Pack Freeway Sock Guy in the Victorian Age; we have them, now that the weather is good, at many ramps across town. You can be stuck in traffic, get cold water, a pack of peanuts, and a six-pack of white cotton socks. I promise this is true. I promise I will get a picture of this.
Until then, you will have to go wallow here:
— Sock Timeline
— History of Socks Japenese-style
— the History of the Sock Monkey