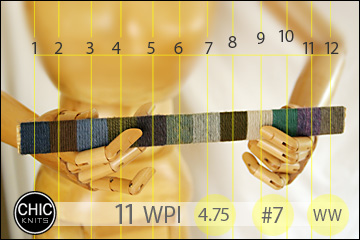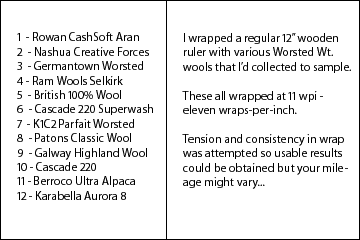 I am going to go out on a limb here and TESTIFY how much fun I had doing this little wrap fest of yarns for Ariann. I encourage all of you to try it – something about playing with the yarn this way, in close proximity and close comparison, makes a lot of things CLICK.

You can see many fundamental characteristics, up close and personal, as you make this little chic stick – loft, density, tensile spring, controlability – all things that make a yarn good for a project or a dudley.
It also totally reinforces, for me, the fact that the ball band on any yarn is just a starting point. For instance, I assumed Karabella Aurora 8 is best knit with a size 8 needle for a gauge of 18/24. However, this yarn and one with a similar recommended gauge, Rowan Cashsoft Aran, totally benefits with a slightly Tighter Gauge.
This is easily accomplished by using a #7 needle – making the gauge 4.75 sts per inch instead of 4.5. It helps the fabric made from yarns with a more delicate fiber content become slightly more crisp and well behaved. Just that one little adjustment can make your garment last longer and wear better.