And the Secret Ingredient of the chili?
C.O.F.F.E.E
Thanks happyBEAN (queen connoisseur of all things java) for the recipe — it is packed in my lunchbox and will be going out to work with me today. I threw in a little bag of kitchen Tortilla Chips, made locally here by El Milagro, which are my current fave.
Yeah, coffee. And beer! And cocoa, which I cheated by using something in the Gourmet Collection by McCormick called "Cocoa Chili" blend. It has chipotle & paprika in there with cocoa (and sugar). So I left out some of what the recipe called for (less sugar for sure) to compensate.. I also used one can of pinto beans and one can of red beans because I loathe kidney beans. In the meat department: one lb. ground beef and one lb. round steak, cubed.
About the Beans: when I was a wee child, my mom went through a fanciful transformation. During the first 5 years of my life, we only ate fresh or canned vegetables, many which came from relatives farms in the "country". We lived kitty-corner to my Mom's Mom (Busia, my Polish grandmother); our backyards connected while the houses themselves faced perpendicular streets. During certain times of year, there was a lot of canning going on. Even though it was discouraged, I was always underfoot because I loved every part of it.

Extra special was going out to Hilliards to fetch the food, but even if I only saw the baskets and sacks come out of a car it was exciting. The adults were always so focused and organized. The food had to be used or canned right away and the delivery joined a process that was already sometimes underway in Busia's kitchen.

She boiled the jars, blanched the food, sealed and labeled and VOILA! Both our families had vegetables for most of the rest of the year (yes, they were not fooling around, they made tons).

Then my parents bought a freezer.

They bought a side of beef to put in the freezer. And started freezing vegetables instead of canning, although Busia still held down the fort with that for quite awhile, insisting it was much better.

My Mom totally loved buying frozen vegetables when they became available. It was a food revolution!

And I have to admit, most of the time, the food tasted fresher (although I will always, always love canned peas). My little girl self, though, could not abide the days we were served Mixed Vegetables. The taste and feel of the occasional Lima Bean put me over the edge. Luckily, the dog was not so fussy.
To this day, kidney beans, in my mind are the not-so-distant cousin of the Lima. Eewww. (But to every rule there is an exception and my sister makes some sort of bean mix in a crock pot that rocks! But that may be a recipe for another day.)
Also new, to me: all of the onion, garlic and meats, were browned together before putting into the crock pot!
So far, this taking the Lunch to Work has been pretty darn easy – and I've lost two pounds not eating *road food* all over the place.
Packing is a challenge though — still working on the system —
But it's trickling over to other parts of my life. Recently started? A stealth spring offering that somehow ended up packed and ready to roll with all ingredients connected.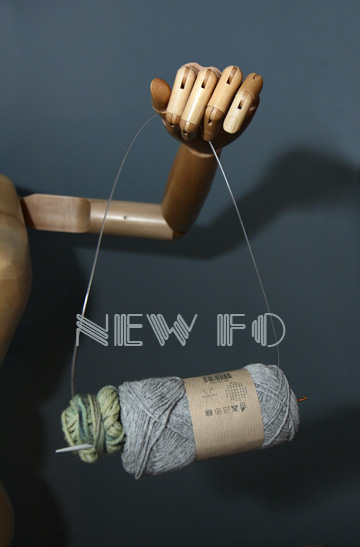 Do you ever do this? Thread the knitting needle through the yarn and make a little package? I had to throw in a little scrap yarn in there too because a provisional cast on is in the List of Things to Do ;p
Which Provisional Cast On do I love? It's one that my friend GirlReaction showed me a long time ago at a KIP. You crochet a chain, then pick up your stitches through the little bumps behind the v's of the chain. You can see it here really well. The very coolest part about this is that when you're ready to pick up sts on the flip-side, you tug one end of your chain and it unravels and reveals the "new" sts. (Just like opening a stitched bag of dog food!) And, I still love published tutorials! Watching a video is great for some things but I find myself having to play them over and over. This one, by the lovely Sarah, has great instructions and pictures.