There's been lots of interest in Buttons & Buttonholes in our email lately. Last month, I finished a Mondo Cable Cardi with cap sleeves and a more narrow collar — here's what I wrote in a newsletter update and some more random thoughts…
"Here's the cap-sleeved Mondo Cable Cardi
I made for about the house and about town:
It has a half-size collar which gives it a slightly different look.
This was part of my travel wardrobe last weekend to NYC, worn over a long-sleeved dusty plum knitted shirt, dark, dark indigo pencil jeans and some knee-high black boots…
Later, for dinner, the vest was worn over a black chiffon blouse. Its ever-so-slightly ruffled collar topped the sweater's band for a little uptown glamour and it's short banded and buttoned sleeve cuffs peeked out below the cap edges. A matching pencil skirt, tights and boots completed the ensemble.
Don't be shy! Want to make changes in the finishes of your sweaters? Go for it!
You see I used 4 buttons on this version instead of 3. The next one I make I will put buttons all the way to the hem for a traditional sweater closing.
We recommend placing the buttons in the row you do a cable cross. IF you are a fan of buttonholes (this one closes with snaps on the underside of the band), made them on those rows as well. Space your buttonholes on the collar equidistant from each other, balanced on the band.
If you'd like a different type of neckline finish, we've seen attached i-Cord and a knitted-straight-up ribbed collar done by knitters. (Mod updates were sent to your LYS or directly to PDF knitters. If you need one, ask your Vendor or shoot us an email with your Transaction #. If you purchased the PDF pattern after October 12, 2009, all changes have been incorporated into the pattern itself.)"
(if you're interested in signing up for the newsletter, go here…)
What buttonhole should I use?
My favorite buttonhole is one I found online years ago, based on Maggie Righetti's original found in "Knitting In Plain English."
[It is a firm and balanced one-row beauty][2] and is worth the effort to learn how to do it; it's good to do a practice one before starting on your garment one.
For the size of buttons used on this sweater, I would use 3 – 4 sts total. After the buttonhole is worked, you can "try on" the buttonhole for fit by putting your button through the space.
HINT: for the more intrepid amongst you, work 3 – 4 partial rows back and forth over the new buttonhole to make a more substantial band to "rehearse" your buttonhole.
As above, if you do this in the same row you do a cable cross, you will have beautifully, evenly spaced buttonholes down the front of the sweater.
What if I've already finished?
A couple of solutions…
If you have the combination of soft yarn & too-heavy buttons, your collar might "wilt". In this case, the snaps also might add too much additional weight to be of much use.
Solution #1: use lighter weight, slightly smaller buttons. We also recommend this if you are going to put the buttons all the way down the sweater front.

Solution #2: instead of snaps, use Hook'n'Eyes. I love these. They are virtually invisible and easy to manuever and are very lightweight.

Solution #3: again, for the more experienced, feisty knitters out there, the Afterthought Buttonhole, made famous by E. Zimmermann and shown in a cool tutorial here (scroll down page)…

It involves snipping and unraveling your yarn for a few stitches, then working your buttonhole. For those knitters cool with steeking, you know cutting into your knitting is not only sometimes one of the only ways to get an intended result, it is, in the words of the Grand Dame: nothing to fear!
I've done this dozens of times over the years now and will probably do it again! Most recently, I did something similar to fix one of the Chic Knits Fall sample pieces before it went to TNNA. It had to be snipped and unraveled all the way across every piece, then grafted back together after a fix was made.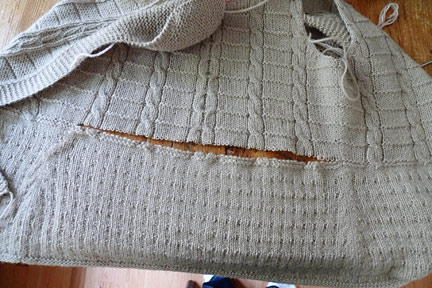 I fondly refer to it as my "Afterthought Back." Darrnitt if it doesn't look like the thing is laughing at me! ;P