Curse-Free & Stash bustin' Boyfriend Knitting

He Said She Said
Spend the weekend doing something you love for someone you love …
Chic Knits HE SAID SHE SAID is made with bulky yarn and knits at 3.5 sts per inch.
So, do a little stash diving and in a few hours, you can make a great gift!
No Bulky Yarn in the Stash?
NO PROB! Just combine two DK or Light Worsted Weight yarns from your collection…
---

Here's how:
— Add the two gauges of Yarn #1 + Yarn #2 together
— Divide that sum by 3 to get the approximate New Gauge
Trying this out with yarn that has a gauge of 5.5 sts per inch, we get: 5.5 + 5.5 = 11 / 3 = 3.6 (usable at 3.5 sts per inch).

---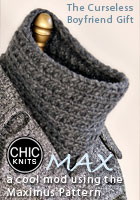 Here's a smaller circumference version, we've dubbed MAX – I've made 3 of these and wear it all the time!

How to make a MAX from the MAXIMUS
Using the set of numbers for the 2.5 sts per inch gauge instructions, subtract 8 sts from your cast on and 8″ from the length worked.

It takes 88 yds of Super Bulky yarn. (Triple stranded worsted works really nice — try different colors for a tweedy effect!)