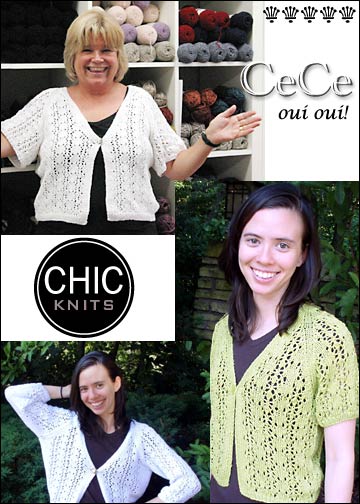 Flirty! Feminine! Gorgeous!

At the top of our picture, we see the fabulous Jane P. in front of a wall of yarn at Unraveled in Richmond, VA, modeling her new CeCe (knit from Katia "Papiro").

Jane writes: "Hi Bonne Marie! I didn't think I could enjoy a pattern as much as I loved my Sitcom Chic but I just finished my new CeCe and I love it!!!"
Fantastique! Read more about her adventure (she started this July 20th and unveiled on July 30th!!!) at KnittingSister.
AND, since once is not enough, the gorgeous Amy H. models two fabulous CeCe-s fashioned by her Mom, Pam, using white cotton tape called Elena by Filatura di Crosa and Svale by Dale of Norway.

Pam writes: "Thought you'd like to see some finished objects using your patterns. I really enjoyed the raglan all- in- one shaping since seaming is not my favorite activity! I liked the Cece pattern so much that I knit 2 of them (and have enough in my yarn stash for several more). My daughter Amy is the model but her mother will actually wear the garments."
So pretty —
I've made FOUR! of these so far myself and am thinking about Nr. 5 — just found some beautiful cotton/silk yarn that was lurking in a closet.
********************* make your own CeCe — get the pattern HERE