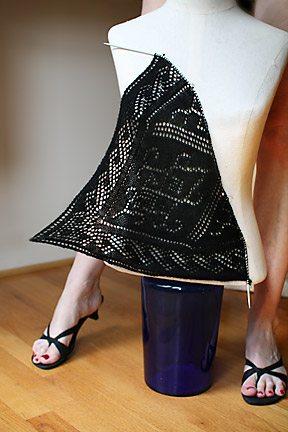 Destination. Determination. Deliberation.
My ex-husband used to polish me off during an argument by commenting that everything I knew I'd learned from TV.
Perhaps.
These days, I'd have to say my Horizons are just a little more grand.
It is not unknown to stare fixedly at the Unknown, in these parts lately.
Just last night, right after I picked up my lace knitting from its basket, I was staring fixedly at a mess in my lap.
Maybe mess is too strong a word, but after several days of lanquishing, I'd started knitting the glorious Mystery Stole #3 again and immediately dropped a stitch. And then I stared. And stared. Hypmotized, to be sure. Stumped. Minutes ticking by.
And then I probed it with a hook. Hee. Nada.
And then I frogged real fast. It's like closing your eyes and ripping off the bandaid from a hairy spot. Real Fast and its over. S-L-O-W and you suffer.
Fast and you're on your way again in no time.
But the lesson learned? Don't go too many days between knitting the MS#3 (or any other work-in-progress) because it might bite you.
And instead of getting to the end of Clue #2, like you'd been dreaming of, you are only on Row 137.
[hmm. a very good number. guess we'll do a little happy dance and visualize wearing this somewhere fab.]