UFO Resurrection KAL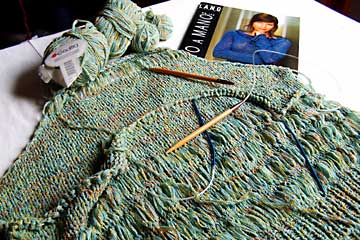 If you would've asked me in the Fall of 2001 if I thought I'd STILL be blogging almost 6 years later, I probably would've just fallen down in a fit of giggles! [ rUkidding Me? ] But this journal seems to be like the eBunny — it just keeps going and going and going…
And I'm glad!
BECAUSE it has once again bailed me out.
It's one thing to stash (erm, hide) a bunch of WIP's you've fallen out-of-love with.
It's another to Rekindle the Flames and decide to try again.
In every case of the polled projects from last week, there was no organized storage. They were all in This Trunk. Nowhere near were patterns or notes or anything to indicate what the stuff even was.
Enter the Blog Archives. I added a Google Search feature to these pages awhile back (in the right-hand sidebar). I did a search on the words *Groovy Condo* and VOILA! It returned this archive page, complete with my tubular cast-on notes. [Did I ever mention that I adore Tubular Cast-Ons?! FAB! My links are toast — here's a great one similar to the one I used but by a molto compiuto e bello Italian living in LA. Thanks Fluffbuff!] Also, on the right-side bar of long ago, the WIP list where I find my needle size and Pattern Book info.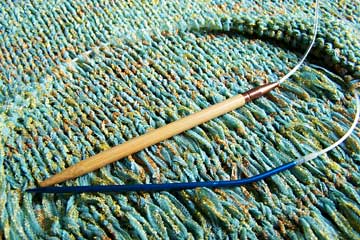 There's the big fat Bamboo #11 needle that goes with this project. It was not even in the vicinity of the unfinished piece. I'd done something I like to do that I think keeps the stitches from deforming during storage: I used a smaller diameter inexpensive circular needle from an eBay score to hold the stitches. That's a big 7 come 11 baby — and what could've been a crap shoot it now back on track.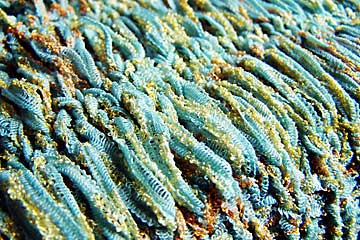 This is YARN?!? /////