Monday Morning Mirth
happy anniversary speed freak
OMG! It's been a whole year since I entered the ranks of DSL! While gone are the days of waiting endlessly for downloads (and I believe I got more housework done in those times by being the multitasking maniac I am) now HERE are the hours and hours of finding and playing with online goodies!
And because I'm a Big Fat Enabler, now you can too!
Here is my current favorite: the Rasterbator!

You can upload a favorite jpg picture under 1Mb and it will BLOW IT UP to the ginormous dimensions of your choice, then give you a PDF file you can print out in *Tiles*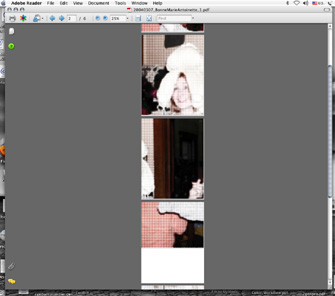 I watched S. Coppola's "Marie Antoinette" this weekend, hiding from the HEAT.This movie was an unbeilavable portrait of excess and frivolity, just a slice, not much plot or substance, but oh those SHOES! OH the photography, especially the FOOD shots…
After you print out your tiles you piece them together mosaic style as a poster! Below is my new 25″ wide X 22″ high — 6 page poster. You can use many, many more pages to get a HUGE poster!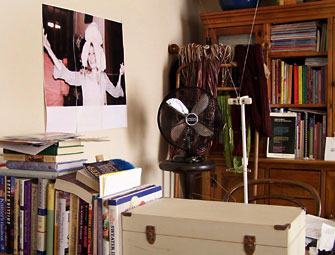 — –the picture I started with was a very loRez (72ppi: 4.5 x 3.2 inches — 35k) very small JPG but it gave nice dotty results using the online Rasterbator

— to get smaller dot size, use a higher resolution image to start with, and download their standalone app which lets you choose more detailing

— beware: darker pictures take more ink!