NYBB
round three
South of Houston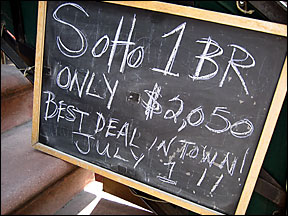 After we hit the saturation point at the Chelsea Market (a Sarabeth sugar cookie revived me just fine), we jumped in a cab with Joe, an older Irish gentleman who took us over to SoHo. Joe was the man who insinuated the midget size of Chicago — he told us he'd visited our Toddlin' Town during WWII on a Navy shore leave (Great Lakes?) and I suspect the town looked a little cramped because maybe he never left the Rush Street taverns! But Joe redeemed himself by beautifully singing Happy Birthday to our b-Girl herself, Edie, AND he stopped in the middle of the West Side Hwy. and picked her a mini-bouquet of roses from the boulevard planter. I took a great picture of Edie and Joe but it's on her cammie. Drat!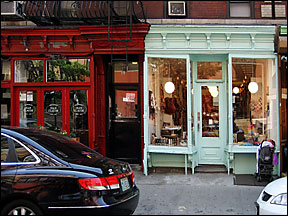 We immediately went to Purl SoHo (little aqua shop on right), which was closed for a class so instead we headed out for a different kind of crawl.
First up: LING Skincare, on the corner of Sullivan and Prince. I longed for a facial after a night of tossing and turning dreaming of baggage claims (my luggage showed up at 6 am that morning at the hotel) but instead grabbed some SoHo ToGo: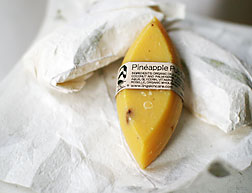 Three bars of Pineapple Scrub Face Bars jumped in me bag.
Then it was off across the way — we went to Hannah (boutique — 155 Prince St.) a charming below street level shop filled with wonderful clothes and accessories. The One That Got Away: I was entranced by a fuschia iridescent silk *jean jacket* that had a very fetching peplum. Its fabric subtly turned gold on an angle but it was one size too small! Instead, I took home a wonderful patterned tank and once we hit street level, found a great turquoise-colored stone necklace from a street vendor, reminiscent of Kenneth J. Lane Nugget necklaces from the 60's: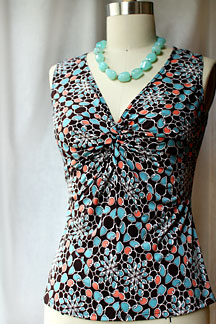 ONWARD! to Kate's Paperie and then to Bruno's Bakery (506 Laguardia Pl) where we met up with a local friend and split a Lobster Tail (puff pastry filled with hazelnut creme) & a little Pizza Margherita. SUCH a beautiful day to watch the world go by — see the fabulous New Yorkers and enjoy their indomitable style. I have to agree with Joe a little bit at this point — NYC rocks out on the style frontier! More people have abandoned (or never indulged) the homogenous GapNation look that is prevelant everywhere. At some point, I was getting whiplash cranking my head to get a longer look at the incredible people speeding by.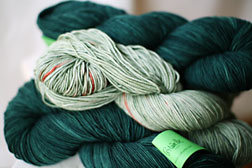 I had to calm myself in the only way I know how: SOCK YARN! Purl was re-opened and we made a quick stop and there's my Jitterbug! Bonus: here's the Catskill Merino from yesterday which was feeling a little lonely: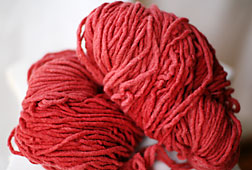 We continued our stroll for the rest of the day seeing the sites passing more incredible everything: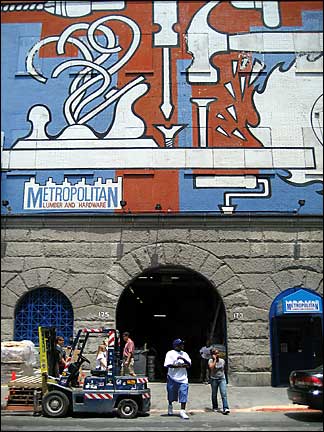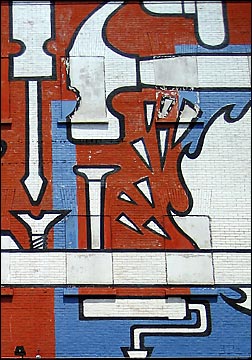 No franchise *homedespot* type of place in SoHo —
Metropolitan Lumber & Hardware — fabulous!
We finished our day with dinner in Spanish Harlem at PAMPA — an Argentinian palace of beef — and strolled Amsterdam Avenue in the twilight, exploring the Cathedral Church of St. John the Divine (WHA!?) then visited with friends. Drumroll, please…

Congratulations to Elise (from BROOKLYN!) who wins the copy of "Women's Work" via random drawing of her entry in the "don't block the box" contest. That sign is on Broadway in Times Square. THANKS to everyone who wrote some of the most amusing reading ever. Thanks for commenting AND reading this here blog!
— PLEASE CHICAGO — represent and get those signs! Gridlock is for miniatures sissies…
— PLEASE New York — why are there 3 Broadways?