NYBB
round two
Every Party begins with (a)Toast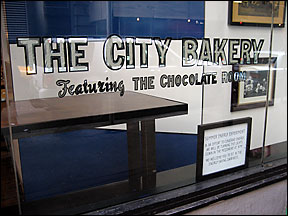 First you eat it (french, but of course)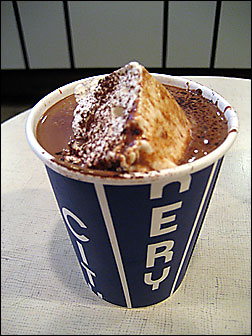 then you Drink It!
None better than that we found in the early A.M. at the City Bakery, (3 W 18th St between 5th and 6th St), where the hot chocolate ("the perfect amalgam of rich, multi dimensional dark chocolate, melted into milk and cream and topped with a homemade marshmallow") is like nothing I've ever tasted, so rich and thick we split it three ways, drank our health and slurped up that marshmallow floating on top. I swear, I was INTOXICATED! Party!
A lovely stroll around the neighborhood followed and a few minutes later we were joining, quite by accident, the shoppers at the Union Square Greenmarket, (located at 17th St & Broadway — Gramercy).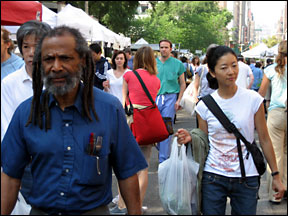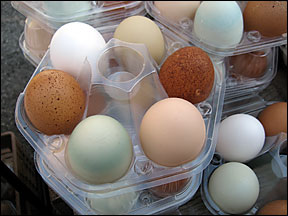 These were the most beautifully colored eggs!

and, AHA! The most beautifully colored yarn!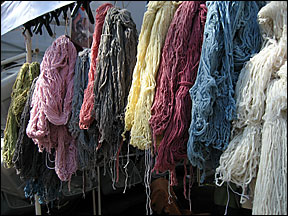 There was a stall full of Catskill Merino, hand-raised & hand-dyed by Eugene Wyatt (author of the *Baa Newsletter*), of Swan Lake, NY. I sampled and took 2 beautiful Cochineal skeins and met a hat designer who was stocking up as well.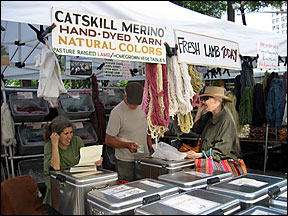 A short ride later, we found ourselves at the Chelsea Market (75 9th Avenue between 15th and 16th Streets). An unbelievable building, it was the "site of the original Nabisco Bakery, where the Oreo Cookie was born." The market fills a whole city block and is a wonderland of food and sundry.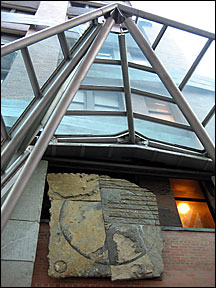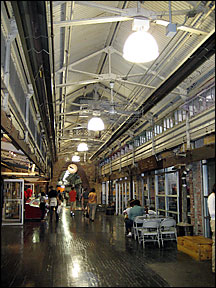 Every nook and cranny of this antique industrial scape was filled with shops of every kind: bakeries (cupcakes were THE food of the day), meats, wine, cheese, coffee, teas, candles, baskets, JAM (Sarabeth's Blood Orange Marmalade!), and more.

The very best? My favorite: a place called 202. Straight from Notting Hill, England, 202 was the land of designer Nicole Farhi — really inspired clothing and housewares. She was showing a dark chartreuse taffeta trenchcoat that made me drool! Hmm. Someday. Someway.

In the middle of the concourse was a fountain — actually just a HUGE open pipe from long ago, racing into a stone-lined cylinder in the floor — breathtaking — simple — ancient.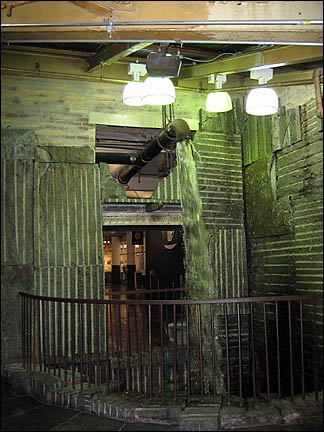 Next up: SoHo