round one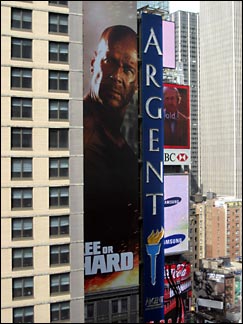 In NYC, everything is larger than life, even Bruce Willis, who's head I
thought could not possibly be any larger than it naturally is, here
measuring in at 3+ stories high…
Every once in awhile, it's good to go somewhere and get the stuffing knocked out of ya.
For me, that place is New York City. Manhattan, to be exact.
It's a humbling thing to be told by a cab driver that your home town is a "miniature New York" but when you find yourself agreeing with him with a big smile on your face, you know you might be in for a very good time.
Three of us flew in for a Surprise Birthday Weekend and we stayed at the Times Square Marriott. I was happy to see from our hotel window that the Harry Potter folk got a much bigger poster than Grease. Teen Angst vs. Teen Angst: Muggles Lose!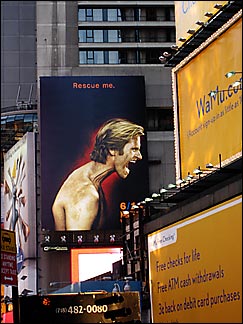 Adult Angst: we got off to a rather bumpy start when ATA lost my luggage, but it wasn't long before my man Dennis Leary appeared out of nowhere, expressing my dilemma exactly…
CLEAN: Almighty. Since the last time I was in NYC, things in Times Square have been quite sanitized. There's lots of franchise offerings instead of flesh zones (for instance, an Ann Taylor loft where I picked up an emergency outfit for our theatre date with "The Drowsy Chaperone").

The colorful NYPD station in Times Square is still as neon wonderful as ever, though.
We visited Midtown for dinner before the show and caught some decent seafood at Papillon, 22 E. 54th Street, then walked the neighborhood.
Wear-able? Victoria Beckham has been a busy, busy gal it seems.

She has released her own Denim line, and encourages us all to wear Hot Pants with very High Heels. I must admit, I did not see any New Yorkers sporting this look but it was early.
HOLY: Strolling the avenue, 5th Ave, we passed the St. Patrick's Cathedral (between 50th and 51st St). It has the most incredible 3/4 size figures embedded in its bronze doors.

The interior is much like gothic Euro churches with many small chapels lining the main area. I would love to explore this further.
This figure intrigued me the most.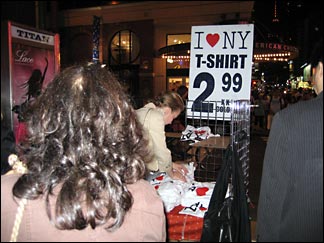 We laughed so hard and long during the DC, we were almost unable to stroll Broadway After Dark, but I was lucky to find the absolutely Perfect Nightshirt at the Perfect Price (although it was $1 cheaper 1 block over)! We celebrated with a slice nightcap from a Famiglia Pizza stand! AH, sweet dreams…
to be continued…