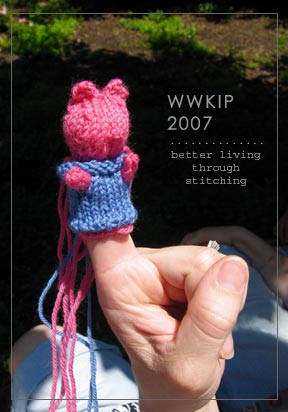 Paxie, the Pink Pig of Peace Finger Puppet by Mary McCain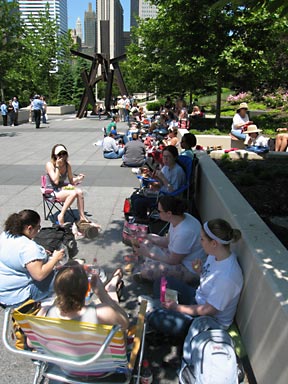 There is really nothing like knitting in the open air and a whole lot of folks came out on World Wide Knit-in-Public Day to prove it…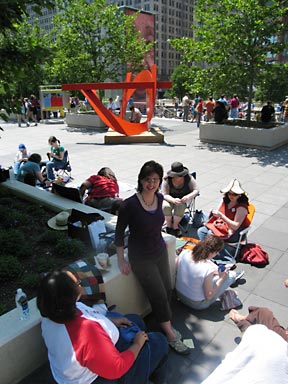 All along the Scultpure Garden east of the Crown Fountain, knitters staked out the nooks and crannies of the walk in the shade and sun. Here, in the middle, Rachel and to her left, KarenB! To the Right — Michelle, wearing the most awesome sun hat — and to her right Angela, knitting on the some of the most spectacular sock yarn ever! Angela ALWAYS finds the best of the best — I've begged her to become my personal shopper. Many, many other happy knitters lined the walk, including fellow Thursday KIPPer, Dana and special guest all the way from Wisconsin, the charming and very talented Cathy.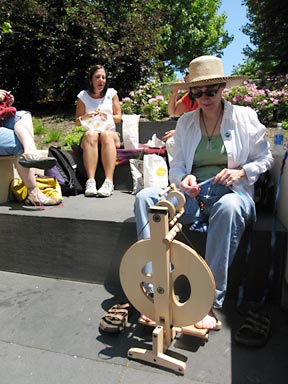 Meg, a spinning goddess, was soaking up the sun in one of the garden's nooks and crannies.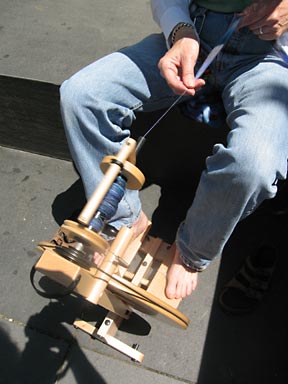 Bare-footin' it. That's livin' Baby…
A special thanks to Natalia Wilson for all her special touch and hard work to bring us all together!