Monday Morning Mirth
As all who live in the Big "Fill-in-your-City-AKA-Here"
(erm, Apple, Easy, Windy, etc.)
know, SummerTime brings a wealth of people
from all over to visit your friendly confines.
It also marks the beginning of the for real street performer scene. I have my favorites and my not-so's; a Mime-in-the-Face is a nemesis during the rush hour bus wait. A crabby worker being followed for a half-block could happen – heh. It makes Everyone laugh (except you-know-who).
While walking with my friends down the Boul Mich, we passed my favorite: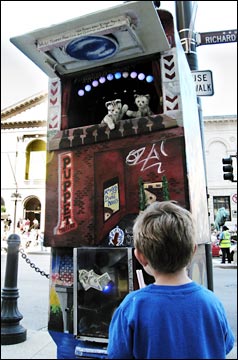 the PuppetBike! Here he/she is working cat magic in front of the Art Institue. I am just about to ask where my favorite puppet, Monkee, a Buddhist yogi chimp whose personal hero is Uma Thurman, might be hiding. Delight awaits!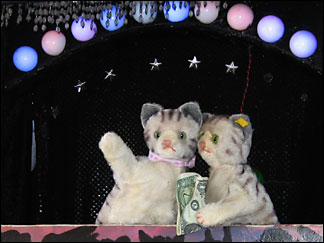 In the moment I look down to turn on my flash, up pop the puppets with a $$!! I am startled because I can't figure out how she saw me! And a little embarrassed because I forgot my manners…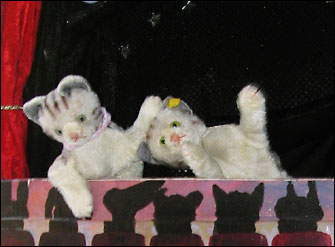 Whew! A quick stuff later and a Happy Dance begins!
And I have to heartily agree with what Kvahle said:
Thank you, Puppet Bike!! You are one of my very favorite things in the city. Every time I see the puppets dancing, I must dance with them!"

Indeed! Support Your Local Puppet!