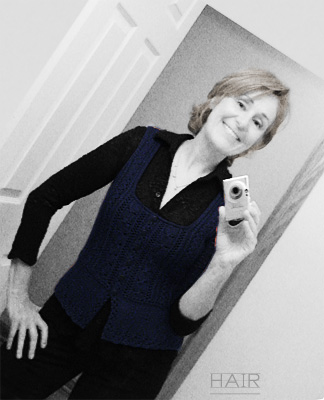 …self-portrait Thursday
Now bear with me a minute. WHY is this woman smiling?
Well.
It's the first weeks of June and we've been peppered with thunderstorms and humidity and wind. In the world of HAIR, for some of us, this could mean some unplanned radical detours in merry olde Coiffdom.
In my case, with my genetics, my hair, ANYTHING could happen. But what normally happens is that my regular shampoo day dance was not working. I don't wash my hair everyday and don't dry it to the bone stage (more like towel dry, blow a little and then SLAP a couple velcro rollers on the top). I have NEVER been able to go the distance with the hair thing.
During this weather, even by the time I was on the #66, it wasn't really dry and riding that steambox I could feel the little tendrils working their way from neckline to headtop and it felt like I had some type of couch critter on my head! I adore curly hair but my wavy locks don't go there. Ever. Instead: (limp)FRIZZ. oui
Yesterday was different.
I Washed.
I Producted.
I Styled.
Indeed. And I'd gone and bought a brush that looks just like the brush my stylist uses and I attempted to do the deed just like he. And VOILA! Not quite as slick as he, but I had dry hair and no frizz.
And that made me smile :)