…self-portrait Wednesday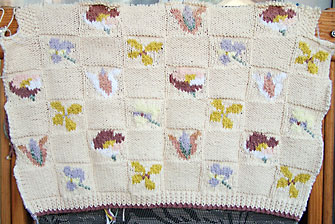 You are What You Eat Knit…
It's the most wonderful time of the year! The Birds. The Flowers. The Sun.
I've been rousting around the house, searching out and making mounds of objects feeling the need to cast-off all extra baggage and start anew. Recycle. Donate. Bin.
Off the main bedroom is a huge walk-in closet.
I am NOT the type of person who should be given the keys to that particular kingdom.
There's stuff in there.
There's stuff in there I haven't seen for seven years, not since the days I moved in in 2000, celebrating the beginning of a new millenium wishing for a new leaf and praying for a chance to abandon my hoarding ways. I must admit that nearly all of the things in the closet have been used and served me well; the fact remains they have mostly outlived their usefullness in my life. Some however, have never, cough, reached their potential.
Consider the hand-knit piece above.
It is a sweater back from so long ago that I don't even know where the pattern could be found (hint: Rowan something or other to be sure). It is Intarsia. It is cotton. I plead temporary insanity.
Looking closer, I see why I might've been attracted to this devil-child. It has interesting alternating Stockinette / Reverse Stockinette blocks.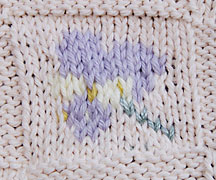 It has Pansies.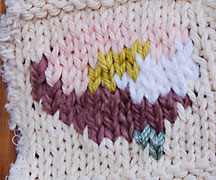 I think they're Pansies.
And who wouldn't love a Chartruese Daisy?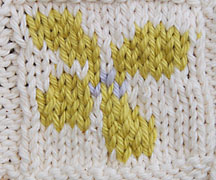 Certainly not me — hee — it appears that that could've been the Theme of this Poem in Stitches and, you know, I've recited that one all my life, to anyone who would listen. Lean. Green. Knitting Machine.

So, in the spirit of leaness, I invite you to a challenge: name the pattern and book this sweater is made from. TOO HARD Dudes! Instead — leave a suggested use for this block in the comments. What would YOU do with this intarsia *masterpiece*?

WIN 5 balls of Zitron POLO (a wonderful blend of 60% Cotton and 40% Microfiber) in a beautiful Cerise color and a pattern for a ChicKami shell!

Winner to be announced Monday, May 28, 2007! (Random number generator used to draw winner.)