Knitters and Yarn Stores form an irresistable force. It's a


Part One in a series…
Every knitter knows, while cruising in one's car, that it's virtually impossible to pass up a yarn store! Lucky me, in my little Jeep, I've been seen making U-turns at the speed of light never missing that opportunity to stop and shop and it's two snaps up before I'm on a first name basis with my LYS and their stash. My stash…

And where there's yarn, there's PATTERNS. That's where I come in – Chic Knits Patterns are popping up all over the place…
Meet my new (and old) friend Nathania Apple.
Nathania, Chloe & Sandi

She's one of the owner's of Purlescence Yarns, a fabulous shop in Sunnyvale, California.

Nathania (at left), along with Chloe Kestermont and Sandi Luck decided to merge their dreams and opened Purlescence in the Summer of 2006. Their passion for the craft has fashioned a warm and welcoming space –
Here's what local Sunnyvale yarn connoisseur Silvia has to say…
"Question: What makes a yarn store a "LYS"?
Sil Answer: A store that stocks things you actually want to buy. I know that's kind of a weird answer, but that's the way I felt when I went to Purlescence. The store is chock full of tempting yarns and is well lit, open, airy with big comfy chairs for a sit down and knit awhile vibe.
Sandi, Nathania and Chloe have melded their expertise and created an inviting space with a pleasing selection of yarns and patterns bound to make you spend your paycheck."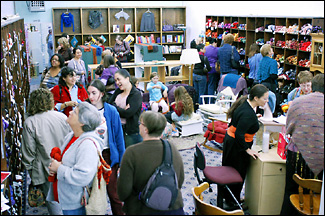 from opening day 2006
"Did I mention that there's parking…While I know everyone has different expectations for a fiber store, I find that Purlescence stocks some decent acrylic blends for washable baby gifts AND the yummiest of Malabrigo colorways.
Hot burning feeling for lace, they're got your back.
A nice well rounded selection, clearly chosen by knitters on my same wavelength. Often, I've found that the fiber emporiums assume that you'd really like to make a $200 sweater for every darn project. Since that's not my reality, I go for diversity. Socks to nuts, so to speak. STR to Encore…
Well worth the drive, even with the price of gas!"
Chic Knits Patterns available at:

Purlescence Yarns
586 S Murphy Ave
Sunnyvale, Ca 94086
408-735-YARN (9276)

Hours:
Monday: 12 noon – 6 pm
Tuesday: Closed
Wednesday: 12 noon – 9 pm
Thursday: 12 noon – 9 pm
Friday: 12 noon – 6 pm
Saturday: 10 am – 5 pm
Sunday: 12 noon – 4 pm


Nathania recently finished a fabulous Ariann made from Malabrigo in the "Chesnut" colourway.
Get your copy of the Chic Knits Ribby Pulli at Purlescence which includes instructions for this very wearable hoodie…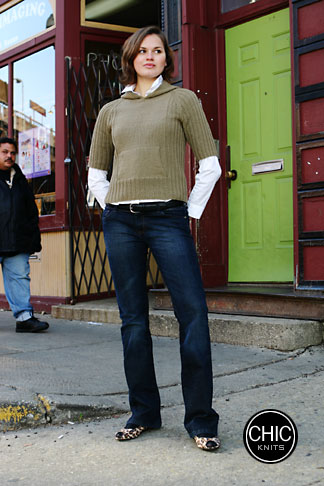 Instructions for this fabulous scoop-neck Ribby Pulli included!