When the warm breeze beckons and Spring invites you out…
Join nature's party and capture the essence of this warmer season with a fresh new look!
Introducing…
CINNIE
a lovely, feminine cardigan design for Spring 2012 (click for more info & pictures!)
Its a love affair with lace in a beautiful contemporary design. Featuring easy-to-knit patterning and a a unique but simple no-sew construction, Cinnie is a great addition to your warmer weather wardrobe.
---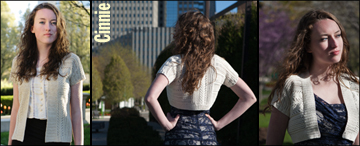 I was wishing for a little cardigan to throw over a cami or tee and decided to just come up with something new!
Versatile & Wearable
CINNIE Includes directions for a long version, perfect for day-to-day office wear & a sassy cropped version, ready to step out on the town or walk up the aisle!
---