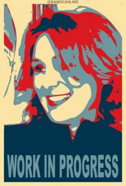 To say that there's been a Change would be the understatement of our new century.
But today, in Chicago, as a citizen and dreamer, I see it almost everywhere I look. It's one of those rare moments where simple JOY is on most faces, where everyone's been given a gift and is passing it along. Finally, some kind of homegrown bail out for the Little Guy, you and me, and with it an invitation to bring it and grow it and make it our own.
Chicago is called the City of Big Shoulders for good reason. We work hard, play hard, sometimes live too hard.
And this year, at this time, we are true to form and is it just me or do people seem Taller, Friendlier, Happier, aware that even in these days of turmoil and challenge, it really does come down to you and me together.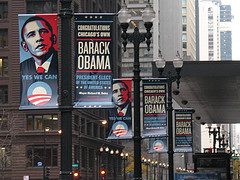 Indeed, there is a New Guy in D.C. He's from Chicago, and yeah, we're a little proud of him! (Photo by mojosmom/Flickr).
Over the course of the last year, I've been behind (and in front) of the scenes as a photojournalist, both campaign and post-election and the buzz? It's well-deserved, earned and true. I witnessed the daily briefings at the local hotels, the unvielings of the team and their focus and if I was king of the world, I would've put every word spoken up on the web for all of us to see and hear.
Why? Because, regardless of where you stood in November, today, in January, we are now the People. And We, the People, have elected one of the most thoughtful, modern and motivated teams in memory.
Needless to say, I'm pumped! And I hope you are too!