Monday Morning Mirth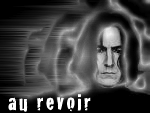 Well. All I've got to say is that I read it (dozing through the forest chapters — damn that's a heavy book). I cried (a little — when it falls on you, it HURTS). And I marveled (5 out of my 10 theories were right-on). But the most mysterious thing about Book 7?
SNAPE!
Oh why. OH. W.H.Y. was he only on about 1% of the pages? The most interesting, most conflicted character (called "the Authentic Protagonist") in recent popular fiction is buried (literally) in the back field at school while we're subjected to the self-orbital musings of a spotty teenage boy sitting in a tent.
Harry Potter & the Deathly Hallows:

But of course, in the Internet Age, you are never alone! Here's some interesting opinions on this phenomenom — feel free to leve me yours!

And here's one for you Ladies, which is probably why we all had a soft spot for Him to begin with . . .