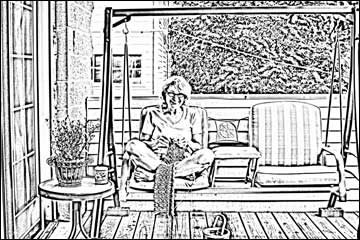 self-portrait Tuesday
1. Coffee (check)
2. Deck (check)
3. Bare Feet (check)
4. Swing (check)
5. Lace (check)
6. Smile (check)
7. SUMMERTIME! (checkcheckcheck!)
Nothing, and I mean nothing, for me beats the early hour before my neighborhood fires up! Out on the deck, it's July with a captial J for joy in the morning.
It is surprising how calm it is at this time of day and if 6:30 makes the birds sing, who am I, sitting and swinging almost three stories above ground, to argue?
We've gotten our backyard condo project almost finished —

The guys excavated the grass and dug out the space, then tamped, sanded and paved. We used irregular light adobe colored stones we found at Home Depot.

We ladies designed and dug the shaped beds and put in the trellised Clematis vines, Russian Sage, Blue Campanula, Petunias, Day Lilies, Alyssum, Veronica, and soon, coming this weekend, Lily-of-the-Valley & some steppable ground covers, topped off with some mulch.