…the Sock Speaks…
Don't Make Me Go There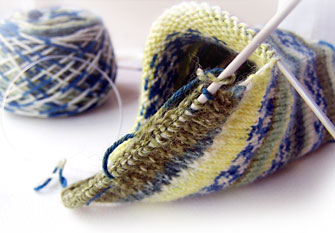 OK. We've all been there…
Back-O-the-Line, you know, the one that snakes around the corner, with people-ropes keeping you off the Employees.
Oh no, we're not talking about the next Age of Love(!) casting call, we're talking DMV and their License Division anywhere in the world — certainly in anyone's Top 5 *Don't Make Me Go There* destination list. But I was there. Last in line.
The little tag on my auto plate with the year on it went missing. I blame myself for this labeljack because I was too scared to use my nails to peel off the previous year, (vanity vanity what is thy name?) and had applied the new over the old. Some friendster (and in the Cittay, they're always watching) must've noticed and decided to liberate it.
So I popped into the DMV to get a quick replacement and ALL HELL BROKE LOOSE!
Turns out I had a mandatory suspension for no insurance from 1997 (on a plate that is extinct because at one point, my car was STOLEN) and they refused my request. Since someone in their system never upgraded an address change I made or linked to my new plate, I never received any notice of *my* bad behavior. But I did get The Look from the State clerk handling the data.
Let me tell you about The Look.
Most of the Chicago natives I've met have the ability to lock their eyes on you in a way that will halt you at ten paces, paralyze you before you can create any more mischief, retard you from asking a stupid question, accuse you of driving like an idiot (The Look delivered as they drive up to you at a traffic stop or even cruising by — it's powerful enough to penetrate metal and glass).
In short: stop you from doing whatever behaviour you were ignorantly attempting to go forth with, forthwith.
It goes something like this: faster than a speeding bullet, the head tilts slightly back, chin up, eyes narrowed now shooting arrows directly down the slope of the nose ZAP right between your eyes!
The Look, accompanied by frosty chilly Speak, delivered to me by my friendly DMV clerk basically let me know that unless I came back with a boatload of proof, nothing but nothing was going to FIX the mess I, criminally insane citizen that I am, was in.
So I harvested. And reloaded my courage to launch another paper spray.
And it was so powerful, it generated the Top-O-the-Line Treatment: the call to the Supervisor in Another City! In fact, it went via phone all the way to the State Capitol, where the sludge of a million pleading lobbying souls will slow any call to a bureaucratic crawl…
So I did what any right thinking citizen would do.
I pulled out my sock, right there at the counter and started knitting.
And LO! And behold! My clerk de-frosted.
All of a sudden, she was asking to Touch the Yarn! She was entertained and delighted by The Sock.
And I knew I was going to be OK. She was calling me and the Sock: "Honey!"
Not only did I get a new plate (a bonus?), but a nice shiny new silver Tag to go on the plate, delivered with a "have a nice day, honey!" and an plea to watch out while I was driving that day because Paris Hilton had just been released from Jail!
HEE! Sock covers Look! If only I could figure out how to knit while driving ;p