the Farmer's in the Dell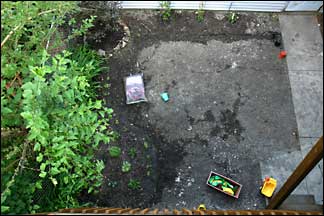 This last weekend was our annual condo home improvement extravaganza! We decided in late winter to pull out our unsuccessful lawn and put pavers in, surrounded by, hopefully a beautiful border. All through the Spring, the gardening has danced through my head, I love it so, and we finally got to it.
Myself and M groomed the borders — we started by salvaging what we could from the naturalizing day lilies that were by the fence and then I marked a curvy space with a spade all around two sides of the yard. We had a huge pile of weeds and rejects. D used a rented Home Depot tiller to break up the grass and then D & T bagged and shoveled it out and tilled once more.
Then, even though it is really late in the season, I transplanted my favorite purple leaf sand cherry from the front yard to the corner. What I found preparing the new spot was just amazing.
Our house was built about a decade ago over what we found out later was the remains of a fire. When the contractor finished the property, they put in, oh maybe, an inch or two of new top soil over backfill. As I dug in the most hard tack of surfaces, objects were revealed: door handles, bits of wood, bricks, fabric, a bone or two, rocks of all ages, iron spikes, nails, the trivia of a century or so that might better have been left alone.
Instead, I salvaged the most likely and dressed that Cherry Bush with what was dubbed the Ring of the Ancestors as a homage to the layers of history revealed by our change.
I think it was a lucky stroke because even though the Bush had a little transplant shock, it is now stretching and maybe wiggling roots below. I gave it a little haircut too.
More chipping and forking later in the east corner and there was a perrenial bed. We all emptied the soil from our multitude of deck containers (minus old stems, roots, etc.) on the surface and I tried to double-dig the lot (sort of like this but I used a tined fork) with some more bagged topsoil. I really got a workout! My DziaDzia taught me about double-digging before planting and if ever an area needed it, this was it. I am keeping my fingers crossed that the Russian Sage, Veronica, Campanula and bronze-leaf Coral Bells will agree and next year we will have a lush oasis instead.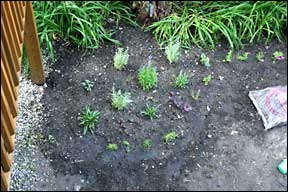 We ran out of day before the lust to plant was done so I did what any normal person would do: I cast on for a new project!
I was running out of steam though, and all I had energy for was the Lazy Grrlz Provisional Cast On: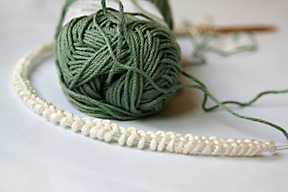 Using scrap yarn, cast on the number of sts needed. Attach working yarn. Knit 1 row with new yarn to make stitches to be used later, then continue with chosen pattern. No fussy crochet chain. Barely any counting. Snip out scrap yarn later.
See you all when I get Back! I'm leaving on a Jet Plane, details to come…